After couple of months of hard work, the Flex viewer 2.1 is final out. The beta is over. There are many news features but one thing hasn't changed, it's free.
You can get it from flex viewer site and learn what's new. Go read the blog to learn this release.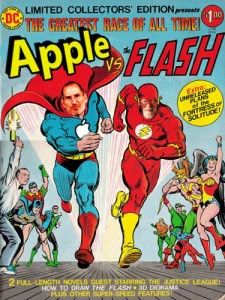 All Things Digital interviewed Geschke and discussed about Jobs' thoughts on Flash and Adobe's heart on Apple showing everywhere today.
Regarding the "heart" ads, Geschke said:
We mostly are using it as a way to communicate with our customers and
partners to assure them that we're not going to change our strategy and
to inform the rest of the community of what the pluses and minuses are
of not supporting Flash on the iPhone and the iPad. Our customers, a
large percentage of them, are the people who generate and distribute
information and content, and for them they have one production stream
that they use to do that and they've gotten used to the fact that we've
worked very hard to open up the standards that we support so that we
can offer them ubiquity of output on all kinds of platforms. So the
fact that Apple is precluding that puts them in a tough position
because it means that they're going to have to create that content
twice, and that's not very productive. It's certainly more expensive
than what they do today. And as you know, the content industry is an
industry under a lot of cost pressure these days.
Besides, I like one point Geschke brought up when asked why now Flash is not open source:
With the standards that we have built and made open to the entire
world, we've tried our best to get them to the point where they're
mature enough so that we're not doing design by committee. If you look
at the amount of time it will take HTML5 to become a reasonably solid
platform, it's going to take a long time because there are an awful lot
of vested interests trying to influence its development.
Just look at those Web Service standards around SOA or look at where Java is going under committees you would know he gets a good point.
The words war is going on after Steve Job's Thoughts of Flash. Adobe just put up some ads all over the place that fights back with "heart". At Adobe's Freedom of Choice page, it says:
We believe that consumers should be able to freely access their favorite content and applications, regardless of what computer they have, what browser they like, or what device suits their needs. No company–no matter how big or how creative–should dictate what you can create, how you create it, or what you can experience on the web.
When markets are open, anyone with a great idea has […] Continue Reading…
If you have visited Apple's site you would notice that Steve Job has some nasty thoughts on Flash. As the crusade against Flash picks up steam, Apple's homemade alternative is getting increasing attention. Gianduia is a client-side JavaScript framework released at last year's World of WebObjects Developer Conference that's aimed directly at Flash Player and Microsoft Silverlight. In a post today, AppleInsider notes the enthusiasm with which it was received by devs at the WOWODC, and highlights its potential as a way for devs to create rich web apps that don't need browser plugins.The odd name Gianduja (say "jan-DO-ya,") […] Continue Reading…
I was sick and was not able to present the new Flex Viewer at the ESRI Dev Summit. My colleagues Bjorn and Mansour(@mraad) did a very good job put the new viewer under the spotlight. So far I've heard is, EVERYONE LOVES IT!
The ESRI Ireland folks post a fairly comprehensive blog entry to describe what the new Flex Viewer is. I have to quote what it said in the end:
The existing Viewer is great. The new Viewer is even better – that's progress.
Thank you the Ireland friends! BTW, they've done very impressive works customizing the existing Viewer. I'm very […] Continue Reading…
Flex Viewer travels around the world. I was at GISWORX in Dubai running a series of workshops. Surprised (shouldn't) to find there were two Viewers running in such a small exhibition setting that demonstrated the latest GIS development from two reginal goverment organizations, one was from Dubai and another one was from Abu Dhabi. The viewers were customized and localized in Arabian.
Did I think about the viewer could spread this far when I designed it? No. Do I think the new coming version of it (ArcGIS Web Map for Flex) can go even farther? YES.
And, it's the first time you might feel online shopping is fun (even you are a single-language-speaker American).
HEMA is a Dutch department store.  The first store opened on November 4, 1926, in Amsterdam.  Now there are 150
stores all over the Netherlands.
Take a look at HEMA's product page.  You can't order anything, and it's in Dutch – but just wait a couple of
seconds and watch what happens.
DON'T click on any of the items in the picture, just wait and see what happens.  HONEST!
This company has a sense of humour and a great computer programmer, who has too much time on […] Continue Reading…
Looks Apple won't give in for not supporting Adobe Flash on its devices anytime soon. Considering all those designers who love Adobe creative products for Mac kept Mac afloat during its down time, Apple looks not that cool anymore. Anyway, there are always alternatives. Speaking of iPad, here comes Joojoo tablet.Just look at the speck, it has everything iPad will have. Beside, it has camera for video conferencing, 12.1 inch widescreen, 1366×768 pixel resolution and Flash 10.1 and Java. It will on sell soon for $499.We all know Apple's refusing to Flash is merely to protect its walled App […] Continue Reading…