Posted by Moxie Zhang | February 24, 2009 .
First, the ArcGIS API fo Flex API was released, then we developed and shared the spatial Flex Viewer using the API, after that I wrote about the design of the Flex Viewer, Sravan here saw it and liked it very much, and now what? It's about time for a reality check after about 4 months the viewer in the wild.
Well, I'm extremely happy to see how the Flex Viewer is rolling. The examples say it all:
MD iMap Received Award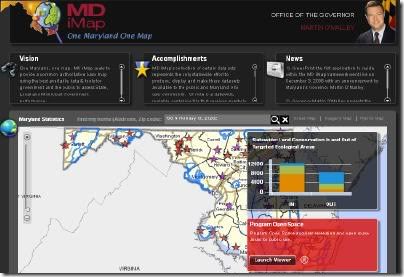 The MD iMap is is a Web portal that provides an authoritative basemap of Maryland and allows government and citizens to assess information about state, local, and municipal performance. It's built using the Flex Viewer.
"During the closing session of the 2009 National Governors Association (NGA) Winter Meeting in Washington, D.C., geographic information system (GIS) software leader ESRI received a Public-Private Partnership Award for its work with the State of Maryland Office of the Governor. ESRI was acknowledged for its role in developing the innovative GIS-based performance measurement applications MD iMap and GreenPrint. "
Did I say I was very happy?
City of New Orleans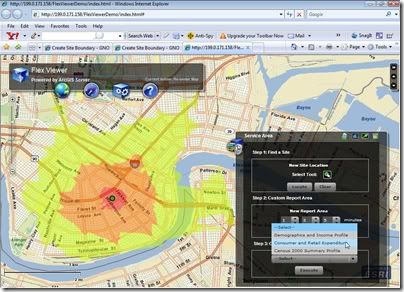 MSF Gloabal Sultions is developing map based solution for the still-recovering the City of New Orleans to be spatially smart about the assets, crime control, etc.
The fact that "location matters" means a lot to the people who had been through so much in the pass and are struggling to stand strong again. Technologies are the essential tools for such endeavor. I'm just so glad there is something we can contribute.
Superbowl! Who let the dog out…
I know for sure who didn't watch the Superbowl this year. Some of the Tampa PD folks.
In stead, they were watching the big screens in the Tampa PD Operations Center. What displayed was the Flex Viewer based Common Operation Picture (COP) application that showed in real time all the critical information around the Superbowl parameters. Just remember this, when you are out having fun, there are always someone and some technologies out there to make sure your fun will not be disturbed. Be grateful.
Save the Planet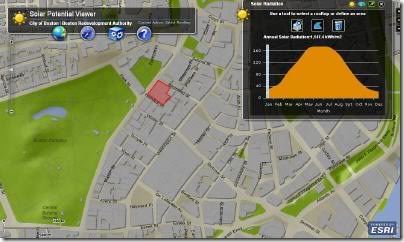 Save the planet, one city a time.
The City of Boston uses the Flex Viewer as the front end and a system powered by the ArcGIS server at backend to help visualizing how solar power can be harvested via looking into the solar radiation generated on each roof top. Utilizing alternative energy has a lot to do with our future, us and this planet. I'd like to do more like this to make our future a better place to live.
Flex Viewer on TV – Houston My City
It's just purely cool when seeing your creation on TV. It's even cooler when it's a map application without the G word.
This Houston New from local Channel 39 has this TV clip on its site. Go watch it.
"Google Earth does not have all the detail and all the up-to-date information that we do", says Max Samfield , Deputy Director of Geographical Information Systems for Houston.
"My City" is a detailed, accurate snapshot of your street. A one-stop-shop for things like fire hydrants, water and gas lines. Information on "My City" can help fire crews when they go on a scene or construction workers before they dig.
Flex Viewer on TV – Cincinnati in Action
I had lived in Cincinnati, Ohio for about 7 years. It's just thrilled to see the TV clip from Cincy's Local 12 showing Flex Viewer was used by local law enforcement agency.
Is there any better way to bring back those good old days?
There are many more implementations like above examples. They all say one thing: we've done something right. What are those "right things?" I'll share with you in later posts. Stay tuned and go download/play the viewer.
Posted under
Adobe Flex
,
GeoWeb
,
Technology
|
1 Comment
Like this article? Subscribe to our RSS Feed