Posted by Charles | June 30, 2009 .
I just spent good half hour playing with the Adobe AIR application Nomee. It's a all-in-one social network desktop application. I'm very impressed by the radical idea/concept (shared card) and the number of sites it searches to collect your online social life. However, even though Its first tag line is "simplify", my experience is everything but simple. After half hour with it, I'm still having no idea what this nice AIR tool could help me. In stead, I'm a bit of upset about the waste of my time.
Only because it's an AIR application I tried my best to understand it and find good usage of it. I failed. The UI is cool but the default black theme is kind of overdone and depressing while struggling to understand the usefulness of it. A new tool with this magnitude of setup won't get a lot of traction with new users. I think the problems is they want to do too much. I might be able to get everything straighten out if spending another half hour. But I don't think I've ever give any new tool beyond 10 minutes before deciding keep it or dump it. There are way too many alternatives are waiting. I seriously hope people who design and develop RIAs learn and practice the real "simplicity" principle.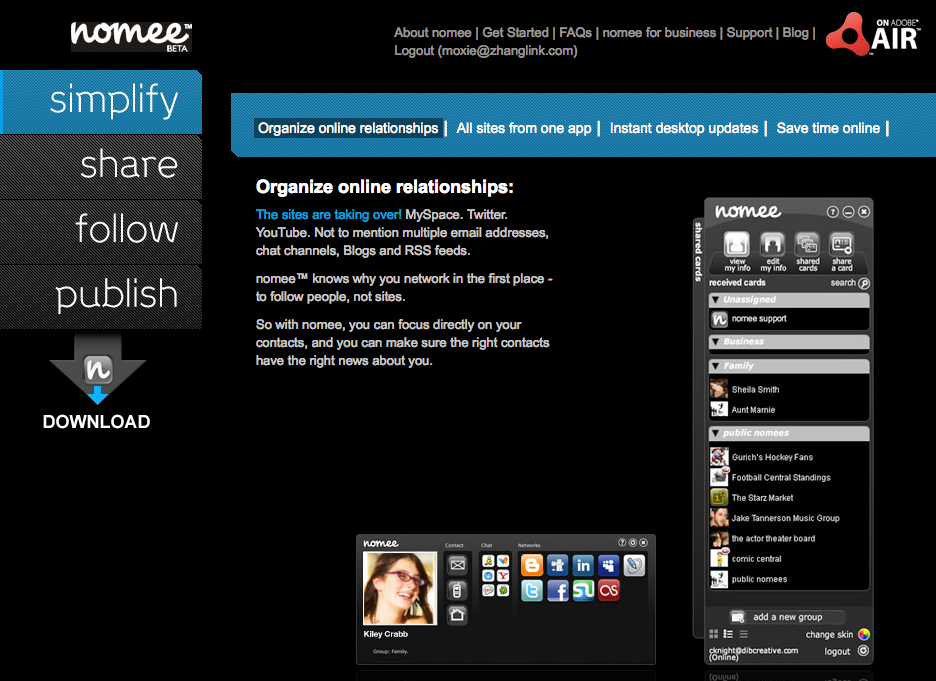 Posted under
Adobe AIR
,
Startups
|
3 Comments
Like this article? Subscribe to our RSS Feed