Posted by Charles | July 8, 2009 .
On July 1, 2008 I wrote about the trend check on Flex, Silverlight and JavaFX. A year later, I am curious to know where the trend is going. So I did it again.
To be certain and fair, I gave the full terms to Google Trend, Adobe Flex, Adobe AIR, Microsoft Silverlight and Sun JavaFX. This is due to there are other Flex information out there (such as Ford i-flex technologies) will help Flex's search trending higher. BTW, I wish Google's semantic focus will solve this issue. And yes, I added Adobe AIR this year. Here is the chart: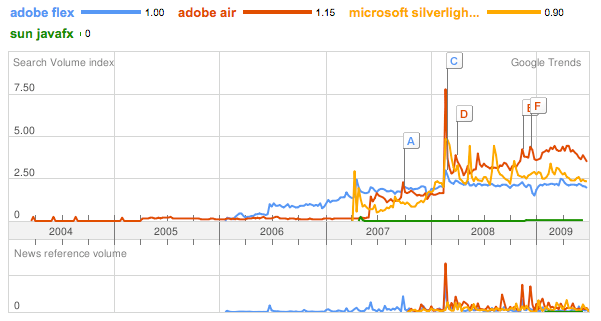 From the observation of last year's chart, I commented:
So, from now on, shown on the chart, the real competition begins, after the initial push winding down and the new guy is back to solid ground. The next half of 2008 will be very interesting for seeing how the chart will be drawn.

This is due to back then the chart showed the Silverlight had upper hand and then was trending down to near Flex's trend line. As you can see from this year's chart, Silverlight spiked right up from Flex's flat and stable line in the later part of 2008, twice. Since then, Silverlight is holding the ground in general, above Flex. It tells us we just can't underestimate the force comes with Microsoft. The much larger amount of Microsoft developers can easily help quickly adopting technologies from Seattle. It took Flex a much longer time (not even includes the Macromedia time on this chart) to get to the current position. But we can also argue that Flex has done bigger part of the ground work for the taking-off of RIA. Well, that is obviously Microsoft's long term strategy (or habit) when decides getting into certain market, where ground has been broken and proven solid already.
From the flip side, if you are familiar with stock charting or TA(technical analysis) of stock market, you can draw a moving average lines for both Flex and Silverlight. What you will see will be that the Silverlight MV line is consistently moving down from the record-high, while Flex is flat. From stock traders' point viewer, guess where the money will be invested?
Adobe AIR is a total different story. It spiked and is going strong than all of others. I am actually surprised by this finding. I can speculate and rationalize this result. But since I didn't expect it in the first place, I'd like hear what you are thinking about this?
JavaFX? I will quote the same thing I said last year, "The chart at least confirm my statement regarding writing off JavaFX." Concidering there are much more Java developers than Flex developer, JavaFX is dead. I believe Oracle will make it official eventually. That's what people will do when seeing no heart beat for awhile, so as the chart shows.
I was puzzled last year by where the trend was set from, especially the 5th place Romania. How's this year? See for yourself.
India is still the number one this year, no doubt it's where you should find the most talents (or outsourcing services). Sourth Korea is showing up and taking the number two spot, a bit suprise. US is the number 6. In general, Asian power is obvious.
Let's do RIA.
Posted under
Thinking Loud
|
1 Comment
Like this article? Subscribe to our RSS Feed