Posted by Charles | January 19, 2010 .
Adobe is trying and Apple is denying. Every other smart phone will have Flash 10.1 except iPhone. The only solution Adobe comes up with is to compile Flash into native iPhone App, as shown in MAX 09.
Now the Gordon project changes the game. This opensource project at github provides a JavaScript Flash Runtime, which runs a swf file loaded from remote server as the same way as swf in HTML with Flash plugin. The project now supports about 99 swf tags. I would think a Flash developer can tell what that means. I'm sure it's very limited so far to play a real swf app. However, from the demos I played on my 3GS, it's good enough for Flash ads (was that how Flash started it?). Here are couple of screen shots from my iPhone. Mine is jailbroken but they run on lawful ones as well.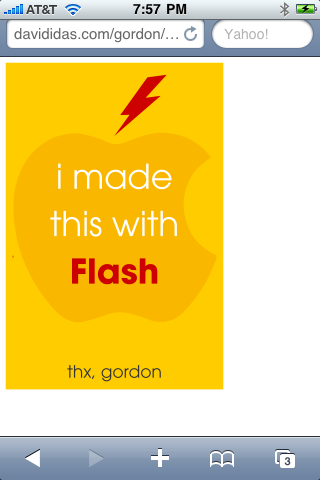 BTW, the Gordon project naming was inspired from this youtube video.
Posted under
iPhone
|
2 Comments
Like this article? Subscribe to our RSS Feed