Posted by Charles | May 7, 2007 .
While more and more adults seeking second life at secondlife, here is a place, webkinz, for kids too, actually, kids' pet too. Actually, kids' virtual pets. Well, not really, kids' real stuffed pets' virtual identities in virtual world. Anyway, it's complicate for us adult but it's very simple and natural to nowadays' kids. Basically, here is how it works. You or your kids buy a stuffed animal. It comes with a secret code. Use that code, you get on to the webkinz site, which is developed using Adobe Flash, to adopt the pet. Once the adoption (aka, registration) is done. A "live" pet of the "real" counterpart is alive. Then, your kid needs to keep the pet happy by doing all kinds of activities with it. Of cause there are virtual money can be spent to buy things to make the pet's life better. Plus, kids can hookup by visiting each other's world. There are a list of pet types a kid can buy and adopt into the virtual world.
The thing is that today's kids don't distinguish between real and virtual. They pause TiVo or DVR without thinking there is recording involved because it just works that way in their life. They don't think about "real" and "virtual" when play with the "pets". It's fun and it's the way it is. Seems it's easier doing business with kids. They play. They don't analyze. Of cause, the business needs to be cool and fun.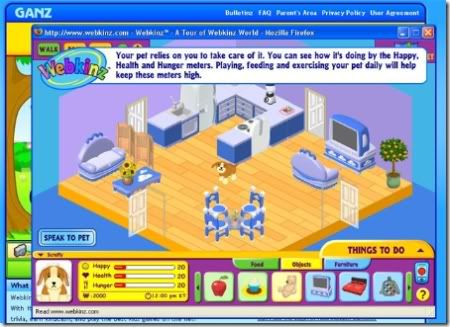 Posted under
Adobe Flash
,
Startups
|
12 Comments
Like this article? Subscribe to our RSS Feed