Posted by Charles | May 14, 2010 .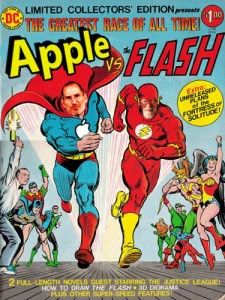 All Things Digital interviewed Geschke and discussed about Jobs' thoughts on Flash and Adobe's heart on Apple showing everywhere today.
Regarding the "heart" ads, Geschke said:
We mostly are using it as a way to communicate with our customers and
partners to assure them that we're not going to change our strategy and
to inform the rest of the community of what the pluses and minuses are
of not supporting Flash on the iPhone and the iPad. Our customers, a
large percentage of them, are the people who generate and distribute
information and content, and for them they have one production stream
that they use to do that and they've gotten used to the fact that we've
worked very hard to open up the standards that we support so that we
can offer them ubiquity of output on all kinds of platforms. So the
fact that Apple is precluding that puts them in a tough position
because it means that they're going to have to create that content
twice, and that's not very productive. It's certainly more expensive
than what they do today. And as you know, the content industry is an
industry under a lot of cost pressure these days.
Besides, I like one point Geschke brought up when asked why now Flash is not open source:
With the standards that we have built and made open to the entire
world, we've tried our best to get them to the point where they're
mature enough so that we're not doing design by committee. If you look
at the amount of time it will take HTML5 to become a reasonably solid
platform, it's going to take a long time because there are an awful lot
of vested interests trying to influence its development.
Just look at those Web Service standards around SOA or look at where Java is going under committees you would know he gets a good point.
Posted under
Adobe Flash
,
iPhone
|
Comment
Like this article? Subscribe to our RSS Feed