Posted by Charles | June 24, 2007 .
Increasingly the web is considered a data source than just general information source. Data can be systematically processed, analyzed and organized to produce new data. The early stage mashups we've seen on the web, started with Google Map mashups, are representative data redistribution and aggregation. The data presented, even though mashed up from different sources, are independent in most of case. The processing of the mashed up data, identifying/building relationships among data and generating new breed of data outcomes are greatly in the hands of good programmers behind the web.
Yahoo Pipe has changed that. Microsoft followed with microsoft Popfly. And now IBM join the force with IBM QEDWiki.
I call these products the Web Data Topology (WDT) platforms. They link data from different source and establish relationship among them, process them and produce new structured data for further consuming.
Yahoo Pipe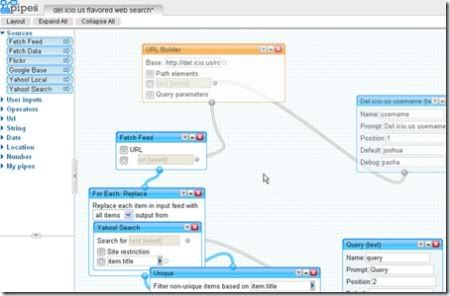 Yahoo Pipe is a AJAX based solution. The UI is very impressive and easy to use. When it just came out, people had hard time to figure out what it does. Now there are tons of "Pipes" created with mashed up data. More featured has been slowly added to it, such as Google Earth's KML support.
Microsoft Popfly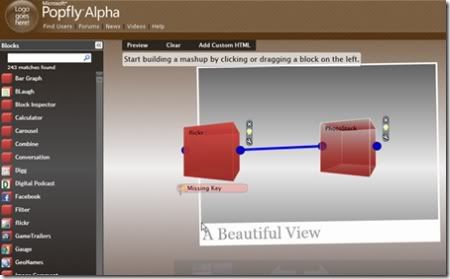 Microsoft popfly is based on its new RIA technology, Silverlight, which competing with Adobe Flash. The UI and application building environment is very visual and full of animation effects, very cool. As results of the RIA approach, the application created with Popfly can be, well, an application rather than just new data source. Another interesting fact about it is that the use of ".ms" domain. Remember the scheme of the guy bought out the ".cm" domain to capitalize the miss typed ".com"? Will Microsoft own the ".ms" domain eventually?
IBM QEDWiki
IBM goes further than Yahoo Pipe and Microsoft Popfly. The QEDWiki is a more programmable platform than the other two. It's not that visual comparing them either. However, it skips the "piping" concept with this broadcasting/subscription mechanism to connect widgets together. Did I say "widget". Yes, it's essentially a widget platform with connectivity. QEDWiki will be free for downloading in next couple weeks. It's developed using PHP and mySQL at backend. The widget building and customization is JavaScript based.
The question is: Where is Google?
Posted under
Thinking Loud
|
Comment
Like this article? Subscribe to our RSS Feed