Posted by Charles | June 27, 2007 .
I'm able to participate Freebase alpha testing (I have five invitations. drop me a line if want to play with it!). Freebase.com is home to a global knowledge base: a structured, searchable, writeable and editable database built by a community of contributors, and open to everyone. It could be described as a data commons. It's quite different from Google base, which stores data in a much more relaxed fashion. Freebase wants to turn data to be knowledge, where the data is structural and related. The example given in the diagram shows how they related data with types, which make the data more useful and meaningful. Freebase has full set API (REST) allows develop custom applications to consume the data.
Obviously Google's intention for Google Base is to index the user uploaded data and provide contextual ads when user browser the data. Freebase, on the other hands, wants to be wikipedia of data (knowledge), which is more organized. Applications and application developers all like database, of cause. Here is a Flash application that uses Freebase data, SoundLine: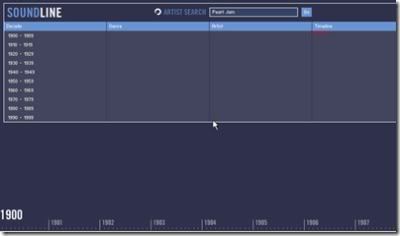 There is urgent push to solve the data end of problem on web. However, with all these APIs floating around, it feels like those pre-ODBC/SQL days. Most of web applications build on top of SQL based RDBMS, such as MySQL. There are frameworks, such as Ruby on Rails, can be used to easily access data. Web database like Freebase really needs go further to support popular frameworks to make its data more accessible. There is distinguished line between "open" and "standard". When the API is a de facto feature for a web system, chasing standard is the next big game.
Posted under
Adobe Flash
,
Startups
|
2 Comments
Like this article? Subscribe to our RSS Feed