Posted by Charles | July 2, 2007 .
SlideAware is a Adobe Flash based online presentation tool. It has the ability to create a flash version of a PowerPoint presentation, host it on SlideAware and then share a link to the presentation. Whilst far from being alone in offering this functionality, SlideAware offers additional services that make it a better candidate for business use; fine grain access control, including the ability to make presentation private and password controlled, detailed analytics on viewing of the presentation and support for key PowerPoint features including builds.
SlideAware has ability to add notes to specific areas of slides, similar to comments in ConceptShare. It has rich presence management (picture in picture like preview of slides that other users are viewing and the ability to sync with a single click) & chat. Also it alows retrieve all notes directly in PowerPoint so that updates can be made. All these make SlideAware as a collaborative tool, as they called themselves. The company offers a free version for basic personal use, and paid versions for professional and workgroup use.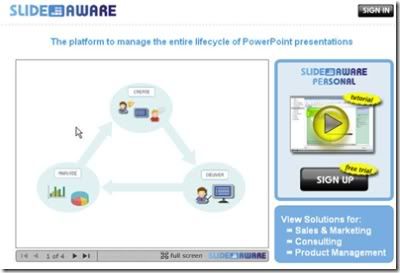 Posted under
Adobe Flash
,
Startups
|
Comment
Like this article? Subscribe to our RSS Feed