Posted by Charles | July 12, 2007 .
As of now the AJAX hype is dying. I like AJAX as a programming technique. I give it credit that AJAX greatly improved the usability of the Web. However, just look at the status of AJAX relates to the whole Web 2.0 thing, it's way and way over hyped. I don't think AJAX is relevant anymore, for current and future web. Here are the reasons:
1. The Growing RIA Club
As I mentioned in the post about Scrybe, many lines are blurring, especially the line between online and offline. By now, all the online startups or grow-up should have some sort of offline strategies. Adobe Apollo (now Adobe AIR) and the re-discovered Java WebStart technologies can certainly fill the bill. Microsoft Silverlight and Sun JavaFX are welcomed into the RIA club too. All those technologies are one way or another utilizing AJAX inside their platform as good touch-up.
2. Visualized Web
Human beings naturally consume information in visual way, period. The information technology started with textual data because of the limitation on computing power. Now high speed cheap personal computer plus high speed broadband Internet connection allow information present in natural way. That's why YouTube and alike crowd are this popular. All the RIA technologies are geared for rich media and UI processing. AJAX is becoming accessory technique to facility certain functionality.
3. Not a Platform, not a language, not a container
There are dependencies to make AJAX happen. For example, to make the AJAX application go offline, the solution we've seen, such as Google Gear, you'd have to have a local web serve to work with the application. The reason is that AJAX is parasite technology. It needs a browser or a similar host. Certainly we can argue that's its strength too but the limitation is very obvious.
4. Not Mobile Friendly
I've seen couple of mobile startups hype their products totally based on "it's AJAX!" then wish the VCs will rain the money to them. They might, though. AJAX is just don't working well on mobile, aside from the strong battery draining power, AJAX is just not needed.
5. Framework Rules
Web applications are constructed by utilizing frameworks such as Roby on Rails, which embeds AJAX, not crafted by merely using technique such as AJAX anymore. AJAX has been increasingly and more deeply buried into frameworks and platforms. In a way you can say it's framework runs the application, not the AJAX, as to the application server runs the application, not the HTML (remember the good old HTML glory day? but who cares HTML anymore).
Don't get me wrong, it's AJAX hype not AJAX itself dying. I just can't stand uninformed gurus worshiping AJAX while preaching Web 2.0. Get over with it, AJAX is just a programming technique. Here is one diagram from a Web 2.0 guru, it's just wrong.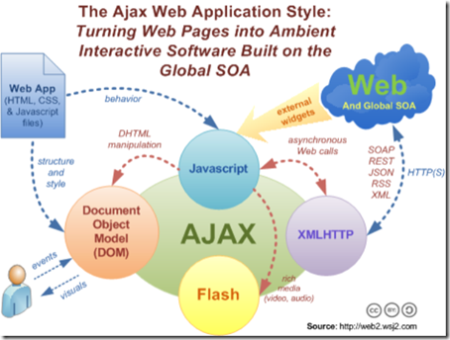 Posted under
Adobe AIR
,
Adobe Flash
,
AJAX
,
Thinking Loud
|
1 Comment
Like this article? Subscribe to our RSS Feed