Posted by Charles | July 13, 2007 .
The status of No. 1 + the Only One should will hold just couple of days in the tech and gadget world. it should be no exception for iPhone.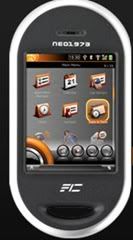 Is this one, Openmoko's Neo 1973 phone, an iPhone killing competitor?
Here is the short spec:
GNU / Linux platform
2.8″ VGA TFT color display
Touchscreen, usable with stylus or fingers
266MHz Samsung System on a Chip (SOC)
USB 1.1, switchable between Client and Host (unpowered)
Integrated AGPS
2.5G GSM – quad band, voice, CSD, GPRS
Bluetooth 2.0
Micro SD slot
High Quality audio codec
The keyword here is OpenSource. The OpenMoko platform are built on opensource software. The entire OpenMoko system and application software are built using FOSS (Free and Open Source Software). On the system side, OpenMoko uses software, such as the Linux kernel, the GNU C library, the X Window System, and the GTK+ tool kit, to name only a few. OpenMoko is Mobile FOSS.
Well-known FOSS-based infrastructure and standards-based development tools enables developers to quickly make the Neo do exactly what they want. Whether this means just making a small personalization, porting an existing application, or even writing a new application from scratch, end users are in total control. The way things should be. And since OpenMoko is Mobile FOSS, developers can share the fruits of their work with the rest of the community.
Comparing to iPhone's walled garden, this one gives developers and hacker a lot of play rooms.
It's taking order now by $300 a pop online and shipped from China, so I heard. At least, while iPhone flooding the market, this one will make you stand out, if coolness still belongs minority.