Posted by Charles | July 16, 2007 .
You would think leather accessories are something far away from gear heads. But the company, Vaja, proves that the leather acquiring experience could be really cool, with the help from Adobe Flash though.
The whole Vaja site is made of Flash. The custom configuration of the leather accessory, say, N95 holster, is a cool Flash application itself. All the check out and payment included.
I think it's one of the best use case of Flash. Things are accessories when they are used along with some host items. Without visualizing how this accessory works when put it together with the host item, you can hardly make decision for the purchase online.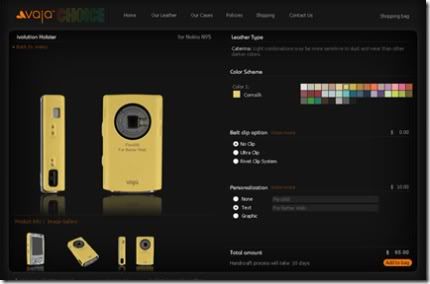 Posted under
Adobe Flash
,
Beautiful Web
|
Comment
Like this article? Subscribe to our RSS Feed