Posted by Charles | July 17, 2007 .
Do you know what a $4999 laptop looks like? In August, Lenovo will release the most expense laptop ever called ThinkPad Reserve Edition, to kick off the ThinkPad line of laptops branded under Lenovo, not IBM anymore.
And, you can't just buy one from a store. You need go to its reserve web to reserve one. The purchase transaction will be involved personal contact from Lenovo to make sure you will have a luxury laptop acquisition experience.
Of cause, it's all marketing. But is there anything to do with Flash. Well, If you go to the reservation site, you will find out it's a Flash site where it's trying the best presenting luxury style with unique mouse driven scan approach to allow you have a peak at what the leather covered laptop will be.
And, there is more, you do can reserve it using the Flash reservation application. However, have you received a invitation passcode lately from Lenovo? If not, put back your fat credit card and back off. This is not something just money can buy. That's the point I guess. A laptop with style and class.
ThinkPad by lenovo, Reserve Edition.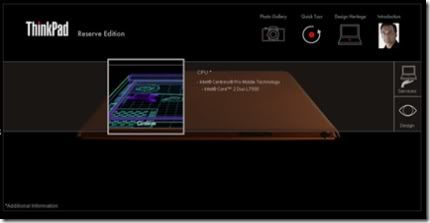 Posted under
Adobe Flash
,
Fun
|
Comment
Like this article? Subscribe to our RSS Feed