Posted by Charles | July 24, 2007 .
Came across this interesting site/tool, WebCockpit 1.0, and it's very interesting and could be potentially useful.
There are lots of productivity related topic lately, especially when David Allen's Get Things Done book and practice getting very popular. Now the Simpleology WebCockpit 1.0 is so called the first "Web 2.0″ application designed to allow its users to apply the simpleology principles (as taught in the Wall Street Journal best-selling book and the Simpleology 101 online course) in an automated setting. Both simpleology 101 and the WebCockpit are free to all (along with a few other userful tools). This is our first release and will be followed up with radical enhancements and improvements in future versions.
At beginning you need spend a bit of time to get oriented. First there is this windows tool to be installed. The UI and function is quite simple. Then there is a browser plugin to be installed. You'd better read or watch its education materials. Once you get hang of it, it seems make sense and can be a help for your daily life.
I have to say that there are indeed way too many stuffs to deal with everyday. There are blogs that we don't want to miss and, man, people just keep posting. And there are gears we need go get it and spend time play with. Life is getting too out of hand. Tools like this might be the help to us back to simple and easy path towards happiness we are all looking for. I'd give it a try.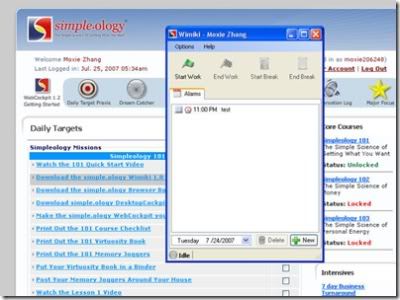 Posted under
Beautiful Web
|
Comment
Like this article? Subscribe to our RSS Feed