Posted by Charles | July 24, 2007 .
Do you really need another news aggregator? Well, if you can find one really helps your reading. Try thoof.
I've talked about the feature of attention is the future of web. Thoof is such personalized news reading tool.
To use it, you need sign up to get an account, which is free. The sign up process is surprisely fast. You give an email address and done. Once you received a email, just confirm it and choose your user name and password. When there are too many new web 2.0 sites pop up everything, a simple and easy signup process certainly give them some advantage.
Submitting a story is quite straight forward. Besides the digg way, you can also create a bookmarklet by drag the bookmarklet icon to your bookmark. Next time when submitting story, just click that bookmark and then the page you are viewing will be submitted.
What makes Thoof unique is a sophisticated algorithm which discovers a reader's interests and tailors the stories to each reader's individual tastes. Every Thoof reader will see a personalized page with stories he or she will find interesting. All that you, as a reader, have to do is simply read what you like, and Thoof takes care of the rest!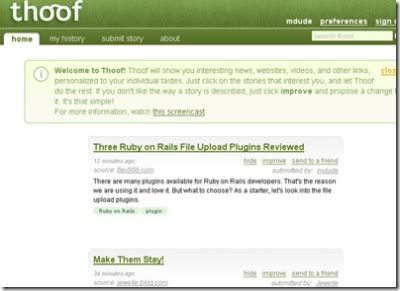 Posted under
Beautiful Web
,
Startups
|
Comment
Like this article? Subscribe to our RSS Feed