Posted by Charles | July 25, 2007 .
NetSuite is a SaaS company that provides businesses a suite of online business applications such as ERP, CRM, etc, those well known three-letter so called enterprise applications. This type business, with Salesforce.com as the flagship, supposedly directly compete with those traditional business application vendors such as SAP and Oracle.
Surprise, the recent IPO filing from NetSutie revealed that Oracle's CEO, Ellison owns 61% of NetSuite. Ellison actually co-founded NetSutie in 1998 with former Oracle Vice President Evan Goldberg. That certainly give Ellison a play in the hot SaaS space. But how about Oracle. That's whole lots of conflicting of interests.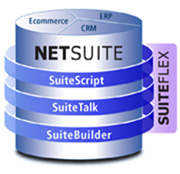 NetSuite SuiteFlex from developer is its open platform for creating NetSuite applications. The SuiteScript, SuiteTalk (web services) and SuiteBuilder allows quite a few ISV developed solutions and products on to of NetSuite offers. Beside from Salesforce.com, NetSuite is rising technology star we should watch very carefully, especially when it goes public.