Posted by Charles | August 1, 2007 .
This demo from Microsoft live lab is a combination of Microsoft Live map and the Flash competitor, Silverlight.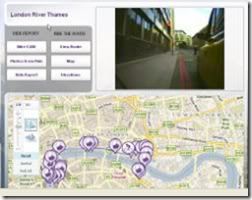 The silverlight used here is for the webcam broadcasting. Right click the video, you won't find the familiar Flash context menu, where we used often to figure out if the piece is running on Flash. Instead, it's Silverlight (you will be asked to installed it if you are not). In my case, it runs very well within the Firefox browser. The video is synced with the markers on the map to show where the riding is at. Not if the Silverlight communicants with the map or it's just synced by programming timing.
Both Silverlight and JavaFX started with the focus on media, which make sense because Flash has been gaining big wave of popularity from Youtube crowd. It remind me how Microsoft started Media Player to bet up Real. Guess there will be battles waiting for Flash. I think the biggest threat to Flash is not at Media platform (creativity workers are very hard to convert, ask Mac), it's at the RIA application and development (actually it might be Flash/Flex treatening MS) . I expect to see more Silverlight application pop up, so does JavaFX.
I think all RIAs are good. They all make the web usable and beautiful.
Posted under
Microsoft Silverlight
|
Comment
Like this article? Subscribe to our RSS Feed