Posted by Charles | August 2, 2007 .
Why illusion art? Does it have something to do with RIA or Flash/Flex here?
I think it does. A RIA based application is 50% design and 50% programming. Of cause, people would say, programing is 50% art and 50% coding. Thus, there are a lot of artistic aspects around RIA. We all know there are only limit amount of UI elements on a application interface, buttons, links, drop downs, etc. But why some applications are extremely appealing than others? It's all because how you arrange those elements and how you put some useless artistic touch aside of those elements. It's all about creating attractive human perception. In other words, a positive feel-good illusion.
Look at this car. When you see it, no matter is here or actually on a street, I am sure you would pay great attention to the words on top of the illustrated car. That's the purpose.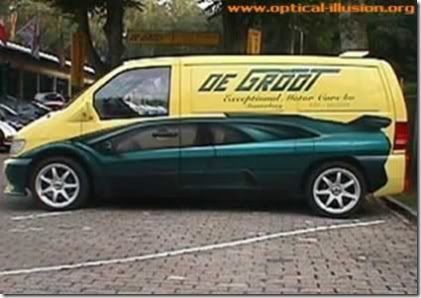 That's why I think Silverlight or JavaFX can make some dents at the RIA programming (coding) level but they will be having hard time to beat Adobe Flash/Flex/Adobe AIR at the rich UI end. Not because of the tool itself, rather, it's because Flash has built a large artistic designer base. You can turn a smart designer to a programmer but it'll be hard to turn a smart coder to be a designer. And, designers are bunch of people who are very stubborn, in term of the tool they are using. Remember how hard it was to move a designer from Mac to PC?
So, doesn't matter you are a designer or a programmer, there are something to learn from illusion art and something to get inspired from. How do you think?
Finding affordable car insurance can be a pain. Luckily, you can find insurance quotes online in no time. Getting the right insurance can not only keep you safe, but can keep your finances safe as well.>