Posted by Charles | August 8, 2007 .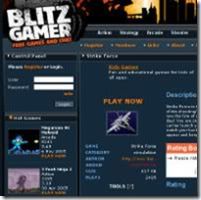 Spent about a hour play those addictive small games at Blitz Gamer. Man, what a good(or bad) way of get you brain off the reality! There are tons of those small Flash games you can play.
There games on Action, Strategy, Arcade, Shooter, Racing, Simulation, Adventure, Sports, Puzzle, Casino, etc. Once you login, you can play and kill big chuck of your time easily. You can rate the games and of cause, the rating help you pick a game to play too. Your points gained from the games will be stored and shown to others. That might or might not give you some level of motivation.
And the best part is that the games are all from Flash game developers and they pay you about $100 to $2500 for a game. For experienced Flash developer/designer, this might be place to make a quick buck. It's all about creativity. Seems all the highly rated games are not something really complicated, rather, it's just easy and fun.
One thing I don't like that much is that there are way too many Flash ads flashing around and they are leading to some other game sites via many jumps and popups, quite similar too those spam sites. But hey, they need make dough too to give out the game for free.