Posted by Charles | August 20, 2007 .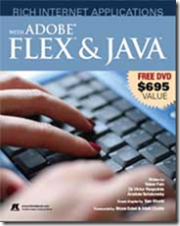 August 16,2 007, SYS-CON Media launched its newest developer title, Flex Developer's Journal, (flex.sys-con.com), the first and only independent magazine serving Adobe Flex developers worldwide. Yakov Fain, the well-known RIA expert and the co-author of the best-selling book Adobe Flex & Java, was named the founding editor and editor-in-chief of Flex Developer's Journal.
This is a very significant move after SYS-CON launched AJAX Developer's Journal years ago. It marks that Flex becomes a mainstream RIA development platform. Also Flex developers are having a new place to share and learn the RIA technology now.
Posted under
Adobe Flex
|
2 Comments
Like this article? Subscribe to our RSS Feed