Posted by Charles | August 21, 2007 .
This Flex application site is not just for reviewing, admiring or merely an example of Flex RIA. Anywhere.FM is a keeper to me for my daily music dosage. The criteria for a keeper application to me are simplicity, right-to-point functionality, focusing on the only major features and do them right. Anywhere.FM does those well.
Anywhere.FM is funded by YCombinator, the interesting seed money VC that has been very successful lately. The signup is extremely easy. Just give the email and password then you are good to go. The music functions are limited, which is good. There are just Play, Upload your own music and playlist, play free music, couple of rating categories. That's about it. Not sure how they deal with DRM though but what and why should I care. Because of it's developed with Flex, there are fewer mouse clicks whenever interactive with the site. For example, the upload function, once you select the file, the uploading starts immediately. I know it's trivial but the small details count. There is a Popout button that bring the Flex player into a popup window. It's pretty much the most useless function here that I would recommend might as well just remove it. What's point! In stead, I think they should work on developing the offline function with Adobe AIR and put the function at that button.
Another thing they can do better is to support different language. The Asian language characters in MP3 properties are not shown correctly. This certainly put this site within limited boundaries. It's in Beta now, however, so we'll see how far they can go.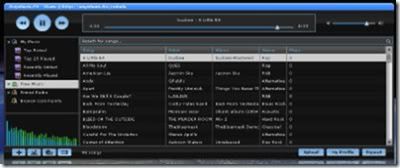 Posted under
Adobe Flex
,
Startups
|
2 Comments
Like this article? Subscribe to our RSS Feed