Posted by Charles | August 22, 2007 .
Lately I found myself more often head directly to flash earth for my mapping needs. There are not whole lots to talk about this mapping site except it pulls 8 online mapping tools under one roof, in Flash. The UI is very simple Flash with radio button to toggle the choice among Google Maps, Microsoft VE (aerial), Microsoft VE (Labels), yahoo! Maps, Ask.com (aerial), Ask.com (physical), OpenLayers and NASA Terra.
As I said before, anything not for show but daily utility should be very simple and straight forward. This is one of the utility.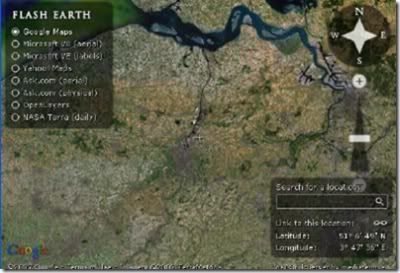 Posted under
Adobe Flash
,
GeoWeb
|
1 Comment
Like this article? Subscribe to our RSS Feed