Posted by Charles | August 24, 2007 .
If you are a person who is still dealing with code, you might want to try this. If you are a person who wants to learn some code but don't know where to start or what you'd like to start, you need try this. If you are a person who want to recall what those codes you've done look like, you want try this too. Better, CodeIDE just added Flex.
Not sure how should I call or categorize this site. In a nutshell, it allows you write codes in its code editor, all UI in AJAX, and run your code online too, without anything installed. You can write code in Basic, Pascal, ANSI C, Perl, JavaScript, HTML and Flex. The editor has code highlight so you do feel it's a IDE. I tried the newly added Flex IDE and it does what it does. Not bad. Especially if you want to learn Flex by following a book. It's a right place to type in those examples in the book and see what's look like, without bothering install all the software.
Once done your coding, if you are registered, you can publish you code too. Also you can start with a project to manage your code base. The UI menu looks similar to those IDE where you can Save/Save As, Import/Export, etc.
There are charting areas to allow you hook up with other coders. There are even command line interface allow you, in simulation, deal with file system.
I think these guys, or at least this concept has good potential. Considering the ever growing web APIs, mesh up and SaaS based marketplaces, web IDE like this could be a great addon development tool once it's integrated with them. But before that, it's a fun place for coders hanging out and be trigger happy with their codes.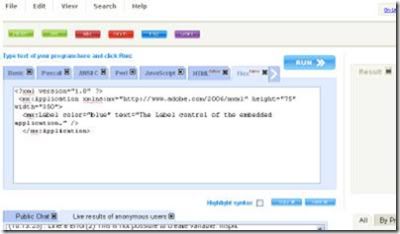 Posted under
Adobe Flex
|
Comment
Like this article? Subscribe to our RSS Feed