Posted by Charles | August 27, 2007 .
Still remember the excitement when Doom came out and we started playing it on PC. The dude at Brokenfunction make Doom to Flash. It doesn't a full game yet but the 3D environment is very impressive. Even though you have nothing to shot at or with yet, it indeed give you the Doom feeling. The performance is quite good too, considering everything is load in as Flash, about in 1.7MB.
There are good lesson to be learned from how the creator tried different ways to get the game playable. Something like this:
It took some trial and error to get this far, since making a fast rendering system is so important. I tried using the same method for drawing bitmaps as Papervision at first, and while it was very fast, it also looked terrible. Papervision's technique doesn't seem to work well in an FPS environment because the wall textures skewed as you walk along them. I tried again with another method that used Flash's draw method heavily, but it was far too slow and hard to work with. I was about to trash the whole thing, but I tried a more basic system, roughly resembling how environments were drawn in the original Doom where each pixel is drawn one-by-one. It seemed like it was still too slow, but after a few key optimizations to the drawing routine it ended up being very fast. I honestly wasn't expecting that, but it's actually playable now on a decent computer.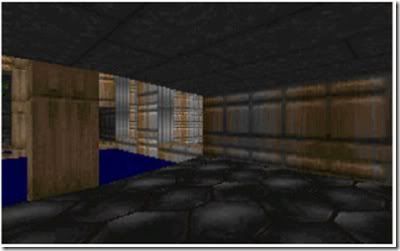 Posted under
Adobe Flash
,
Fun
|
3 Comments
Like this article? Subscribe to our RSS Feed