Posted by Charles | August 27, 2007 .
Aside from Adobe Flash, Flex and AIR, Microsoft Silverlight, Sun JavaFX and AJAX, Firefox is another potential strong RIA player. Especially when Firefox 3 coming out. The reason I believe it's a strong RIA player is that, with Firefox or Mozilla platform, the line between online (browser) and offline (desktop) will be cleanly removed. Now, here comes a prove, SongBirds.
SongBirds is getting into this crowded Music social network area. It does all other music site does, listening music, share playlist, visualization, etc. SongBirds is developed on top of the Mozilla Foundation's platform, which is the foundation of Firefox. That means it connects the web the same way a browser does. Um…it's actually a browser, well, not exactly. it's actually a desktop application…but firefox itself is a desktop application too. See, that's how the RIA player gets you. Of cause, just like firefox, it supports all the OSs, it allows development of all kinds addons, which is most important success factor for Firefox.
I'm not sure about the music business SongBirds is in. But I do believe the way the application got developed and ecosystem got built around are showing some lights of future. Besides, it's all opensource too.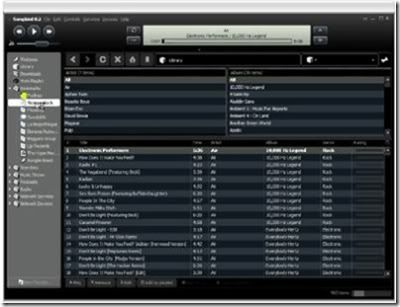 Posted under
RIA Resource
|
1 Comment
Like this article? Subscribe to our RSS Feed