Posted by Charles | September 5, 2007 .
Color counts in the whole world, actually. Doesn't matter if you are designer, a RIA developer, or a free loader consumer, colors will make your work and your experience enjoy the works a big difference. That's why you need take care of color first before diving into the design. Then, how do you get the idea or got inspired or just evaluate a color theme?
People at Weelstyled.com have done that for you.
It's very simple and easy color scheme picking site. Once get on it, make sure you click (or play) all the buttons and dropdown. The will give a very rich set of selections. It's all written in javascript but playing the wheel color plate makes you feel it's Flash. Very well done and useful.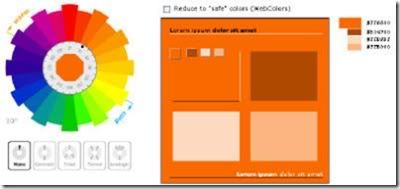 Posted under
RIA Resource
|
1 Comment
Like this article? Subscribe to our RSS Feed