Posted by Charles | September 7, 2007 .

You've got to admire what those Flash designers can do. The Mathieu Badimon's Lab is a good example. It's also an excellent example that creativity usually comes in simple form. When get on this site, you won't find crowded items, colors or text. It shows what you should be focusing on according to your mouse and attention. There is no distraction. That focus and simplicity drive you to take action, clicks. And results are revealing some creative. I'd suggest you play through all the demonstrations, which could be inspiring for your own creations.
Every time I sit there admiring those Flash site, at back of my mind thinking about how Silverlight and JavaFX will compete. I know they think they should, need, have to compete in this RIA space. Are they going to enlist designers or just focusing on the boring computer programming force? I think, beside Flash, I need dig into the other RIA tools more to find the answer.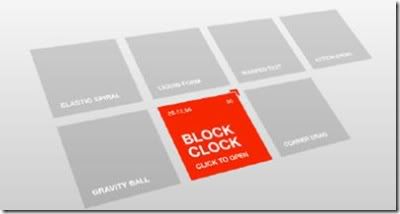 Posted under
Adobe Flash
|
Comment
Like this article? Subscribe to our RSS Feed