Posted by Charles | September 5, 2007 .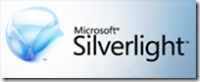 Today Microsoft released Silverlight 1.0 and the official Silverlight site is Silverlgith.net. I'd say that's a very fast-paced release. It means the competition is very serious now in the RIA space. Anyway, here are all the Silverlight goodies:
Go download the the latest runtime version from here: Mac or Windows. The Alpha 1.1 is out too, get it from here: Mac or Windows. Get the Silverlight control for .ASP too for web development.
The development environment is still Microsoft Visual Studio 2008 Beta 2.
There are three designer tools: Expression Blend 2 August Preview, Expression Encoder and Expression Design. Watch out, Flash!
Then, for the die-hard developers who hungry for SDK , get it here.
You will hear more about Silverlight applications from here.
Posted under
Microsoft Silverlight
|
Comment
Like this article? Subscribe to our RSS Feed