Posted by Charles | September 13, 2007 .
Or, creativity demands freedom. Obviously that's how Microsoft understand when it starts opening up independent identify web sites to promote its products and image.
Business like Microsoft has established kingdom, such as web site. Consistency and standard are important to run such big shop. You can't see any approve in the future that any trendy or hype color or element show on microsoft.com. It just doesn't works that way. Then how big shop like Mr. MS to make itself looks young? Give creativity freedom online, its own identify. And, they are in the roll with that.

To participate the Web-as-platform games and compete with something like Yahoo! Pipe, Microsoft comes up with its own mash-up platform called Popfly. Also, it's editing environment is Silverlight, the direct competitor of Adobe Flash. If you ever try this site, popfly.com, you would know why it can't be put under microsoft.com. At the Microsoft standard, it's very creative place to expect creative contributions from its users. It actually goes even further, once you login, the domain becomes popfly.ms, make you think that Microsoft owns the .ms or wants to.

Apple is getting fairly aggressive these days, with line of hardware, OS and now, office suite, released this year. To compete the stylish and the creativity king of the world, Microsoft released another separated site, Microsoft Art of Office, which is totally geared towards Apple Mac users, very rare action. This site is totally focusing on creativity. Mac's MS Office users can upload their works, in artistic form, on to this site for show off and the other social networks features as well. The flavor of this site is more art gallery than boring Microsoft Office suite.

I'm sure Microsoft starts pay great attention to RIA these days, with the releasing of Silverlight, they are strengthening the position in the creativity software space. Comparing to Adobe, they certainly have some advantage over online asset, such as search engine. That's why they created a new site, tafiti.com, what ever that name means, a Silverlight site. It makes great sense doing so.
Microsoft is not along. Amazon is another example. As big as Amazon, which has unlimited "shelf space", you would think they have enough "space" to sell everything on this planet. You are wrong, they are big enough to be in the standard/consistency rule now. That's why when they want to be more trendy and styling, they use new identity, such as endless.com, a to-be the largest shoes place online. If you have someone at home buying shoes all the time, you know that shoes are not functional items anymore, it's 90% fashion and style within the prices paid. So, it has to be freed.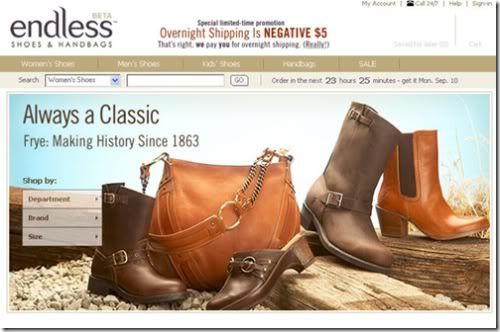 Posted under
Beautiful Web
,
Microsoft Silverlight
|
Comment
Like this article? Subscribe to our RSS Feed