Posted by Charles | September 17, 2007 .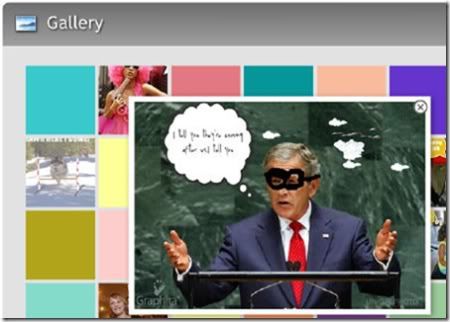 Anything you want and the limitation is your imagination. This startup, Graphita, represents a new breed of photo sharing sites, where people want to do something about the upload digital photos. What people want to do are not just to fix the sharpness, the red eyes, the size, etc. Graphita bits on people want to add some extra digital fun on the photo and share with the rest of world. It's fun, all right.
This Flash site has very simple and straight forward user interface. Right away you know what to do once get to the site and immediately you know there must be some fun stuffs already. Very likely, you will click the Start button and that will lead you to simple Flash upload form to take some action. At the photo upload form, a batch of photos are provided that you can start playing with the functions without doing the upload. This certainly represents another small but significant usability improvement, which allows the users/visitors take actions as soon as possible.
Anyway, interestingly, three of the eight sample photos for playing are of George W. Bush, the president of the USA. Somehow (understandably) the marketing people of the startup believe that larger amount of people are more willing to take some actions with Mr. Bush's photos. It might just work.
Posted under
Adobe Flash
|
Comment
Like this article? Subscribe to our RSS Feed