Posted by Charles | September 29, 2007 .
Now you know I love colors. Actually I love color schemes. That is, put some colors together to form harmony and pass information in a joyful way. Thus, I give you another color site, Color Lover, to full fill your colorful RIA works.
COLOURlovers™ is a resource that monitors and influences color trends. COLOURlovers gives the people who use color – whether for ad campaigns, product design, or even in architectural specification – a place to check out a world of color, compare color palettes, submit news and comments, and read color related articles and interviews.
The COLOURlovers™ community is regularly updated with information and examples of the way colors are used in the real world — along with news articles on color trends and interviews with top creative professionals. Here everyone who is interested in the practical applications of color can find an index of color trends as they are happening. Together, they create a color trend index for the entire world provided by users of color worldwide. It's a tool designers and artists of all kinds use to work with colors in new ways and quickly find out what's hot and what's not. This site allows anyone to find their inspiration for color by searching, sorting and filtering through keywords to a color scheme that interests them… or create and share your own!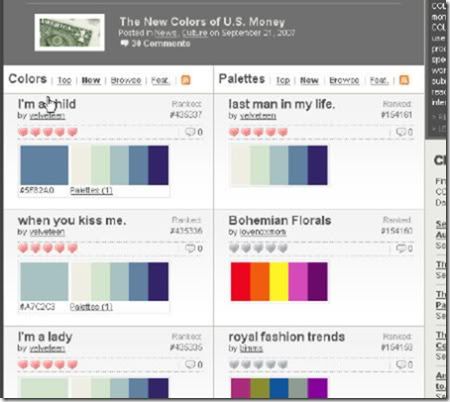 Posted under
Beautiful Web
|
Comment
Like this article? Subscribe to our RSS Feed