Posted by Charles | October 1, 2007 .
I am with you to think the electric greeting card is so web 1.0 and lame and I've never use it and hated to receive one. But somehow the new startup, MushGushy, is making e-card on fire. I don't want to call e-card 2.0 because that'll be lame too.
MushGushy is a Flash based e-card startup. I think the only reason it's getting this popular is one word, FUN.
"At MushyGushy, we're all about self expression and connection… for everyone. And we really mean everyone! We're the only site that gives its community the tools to easily upload photos and cut and place their heads into all of our amazing animations. Then, we let you adjust skin tones to match your facial complexions. You can even switch genders. See what we mean by everyone?"
Actually, you need try it to understand what it mean above there. The Flash based UI is very easy to use and the way it allow you adjust the the image in details to create funs is just fun. You have to try it out.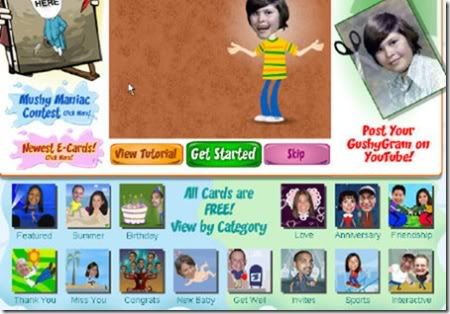 Posted under
Adobe Flash
|
Comment
Like this article? Subscribe to our RSS Feed