Posted by Charles | October 10, 2007 .
Imagine in your party, you fire up a laptop loaded with a VISP (Visual Performer) software, plus cool photo or video clips and noisy music, project the the visual show on the walls or ceiling if you want. Now you are the center of the party, the VJ that really spicy the air up…. That's what the Flex/AIR based VISP software can help archive.
I would recommend go download the software for a spin or at least watch the video at the site. It's a very useable and real AIR application. And believe me, it's not a toy. There are ton of settings for things like MIDI input. Music lovers, especially those hands on ones, will really like this application.
One thingI noticed it, as a almost professional tool, it takes practice to get used to mouse driven VJ style. I wish there are hot keys that can apply flying figures on the keyboard to make me look like a real busy VJ. But regardless, when the music starts, couple of mouse clicks, you will be in the zone…..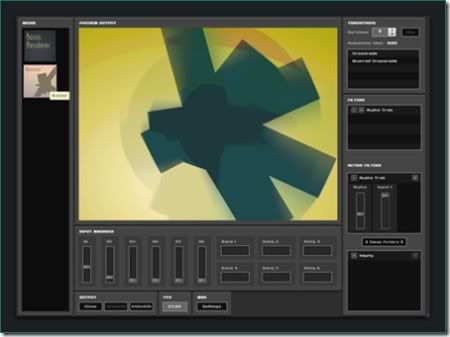 Posted under
Adobe AIR
,
Adobe Flex
|
Comment
Like this article? Subscribe to our RSS Feed