Posted by Moxie Zhang | October 16, 2007 .
Tried to make a case study of Web as Platform. Spend my weekend crafted a mashup using Flex as UI. Let me sharing the findings.
First, what is the Web As Platform thing. Well, the world wide web is a giant name and logo soup if you don't look at it in a orderly way, just like shown in below.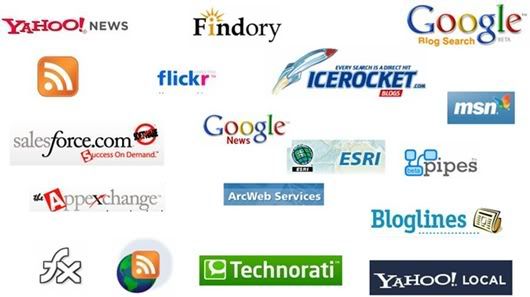 Now, there is another way to look at them: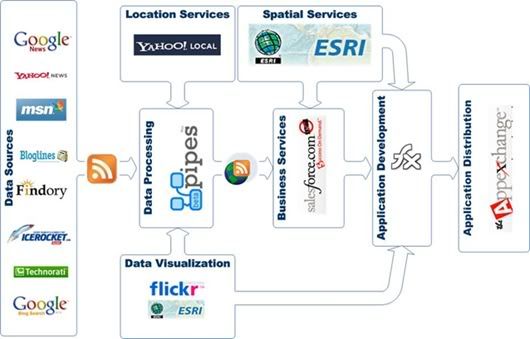 The above becomes a familiar block diagram..um..why is that? That's because we usually look at that diagram as the following way: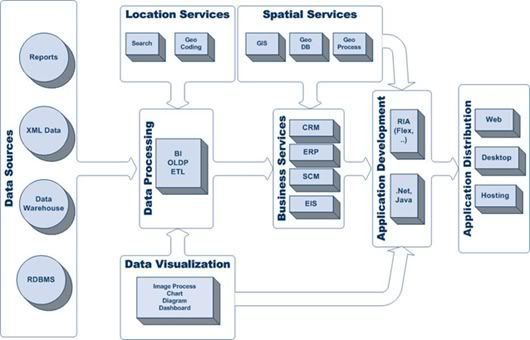 Now you know what I mean the Web as Platform (WAP). I am sure I don't have to spend too much words here to conceptualize the WAP thing. It's already there.
My mashup application used all the resources, technologies or tools mentioned on the earlier two diagrams. To summarize, the major items used are:
Search and RSS feed from the 8 resource, including Google News, Yahoo News, etc…
Yahoo Local Search
Flickr and geo tagged photo search
Yahaoo Pipe to create 2 data mashup piples
ESRI ArcWeb Service and Flex API
Salesforce.com, AppExchange and Salesforce Flex API
Salesforce application module hosting
This is very handful, isn't it? It's fun too. And the application created looks like this:
In the coming post(s), I'll give details on how this got stitched together. What the codes look like and what the problems I encountered (georss parsing, multi namespace, complex URL, trick to connect to Yahoo Pipe by bypassing security sandbox, deal with salesforce API, etc.) and sharing the source code (after switching to Yahoo Map with its Flex API).
How do you like it so far?
Posted under
Adobe Flex
|
1 Comment
Like this article? Subscribe to our RSS Feed