Posted by Charles | October 25, 2007 .

Even though there are still no standard way of contributing, sharing, retrieving and managing reusable Flex components, it can't stop people trying (or sharing). Head to Flexbox you will find some interesting components that I sure you can sizzling up your app some.
Flexbox itself is a Flex app, created and managed by Mrinal Wadhwa. I do like Mrinal's efforts. It'll be nice to have something like Ruby GEM or RoR plugin way of managing the components.
Couple of things could be done better. It'll be nice to make the Flexbox a component explorer which can show sample and view source all at the same place. Right now all the links go out to varies sites. And the dark skin of the app is really dark on my not so bright HP laptop. But sill, good job, Mrinal!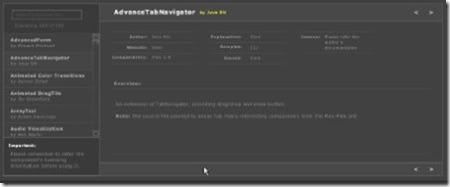 Posted under
Adobe Flex
|
2 Comments
Like this article? Subscribe to our RSS Feed