Posted by Charles | November 5, 2007 .
Traditionally, designers have more expensive tools than software developers, no mention those high end hardware (I always envy those big flat screens on the designers' desk). However, if you have talent, really cost you nothing to start express your imagination and creativity, at least at the software end. Here are some tools for you:
Icon Design – IcoFX
Let start something small, icon. Sometime, the little icon is more representative that those big images. You need a nice tool to craft one. IcoFx does the job very well.
How about font – Linotype Font Manager

What most been seen/read/layout is font. Of cause you can pick the some common and boring one, but if you are really into the uniqueness aspect of text, Lintype tool is a great free choice.
Image Editing – GIMP and GIMPshop
I'm sure most of you know GIMP. It's the opensource equivalent to Adobe Photoshop. And it's not just some open source software; it's really a serious one.
Free Illustration – inkscape
If you are hands on with drawing in digital ways and like Adobe Illustrator, then the free counterpart Inkscape does the work well enough to save you couple hundred bucks.
Pick (steal) the color – ColorPick
Don't know about you, ColorPick is actually my most used media related tool. It's small and always on my desktop. It's on my thumb drive as well. Such a great little utility.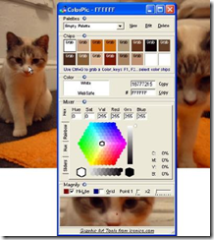 Watermark – uMark Lite
Scenery – Terragen
Userbar – AmitySource
Layout – InsightPoint
Digital Art – ParticleDraw, SMN ParticlDraw
Animation – synfig Studio, AnimPixels, TouchArt
3D Modeling – Looxis Faceworx, Bryce, Blender, 3D Canvas, Google Sketchup
Posted under
Beautiful Web
|
Comment
Like this article? Subscribe to our RSS Feed