Posted by Charles | November 12, 2007 .
And it's the cheapest too. FreeRice is a pure charity site with a very simple and focused purpose, asking you donate 10 grains of rice a time, by guessing a word's meaning. So far, they have donated 300 tons of rice and feeds 50,000 hungry people a day! And, it's only a one month old site!
Talking about simplicity and crowd sourcing, this can't be better example. The first day the site started, they only collected 830 grains of rice. Amazing viral marketing effect. Feel like there are so much to learn from this, but before that, let's put some grains there.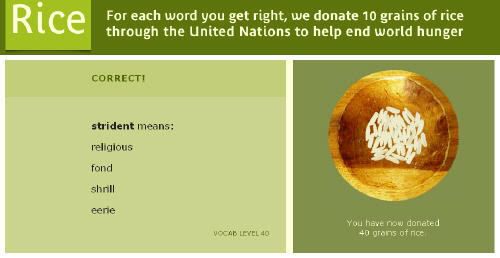 Posted under
Beautiful Web
|
Comment
Like this article? Subscribe to our RSS Feed