Posted by Charles | November 18, 2007 .
Adobe said it would go 100% online. I think it's really on the way going there. Adobe bought this web word processor, Bussword, written in Flex, which is a very usable online authoring tool. Now the Adobe Share opened its beta door to public.
It seems Adobe Share is written in Flex too. What share does is similar to other online document sharing sites such as Docstoc, a startup mimics the youtube type model. Adobe Share allows you share document using its service by upload the files. Then it will create Flash preview of the file, if it's PDF file. That is similar to Docstoc too. So does the feature that you can provide Flash embed code to embed the document to a web page. The UI is in the slick black tune, consistent with Buzzword.
I tested uploading a PDF file that contains images. The Flash preview creation at Adobe Share is very slow comparing to sites like Docstoc. If talking about features and usages, I don't find any appealing reason to use Adobe Share in stead of Docstoc or other document sharing startup. However, once Adobe integrates Share with Buzzword, that'll be a totally different story, which I think Adobe is cooking it (or I wish.)
It's said that Share has REST API for mashup but I haven't found it yet. I think it might be more useful if there is Flex API to this doc service. Then add a Flex API for Bussword, that'll be golden.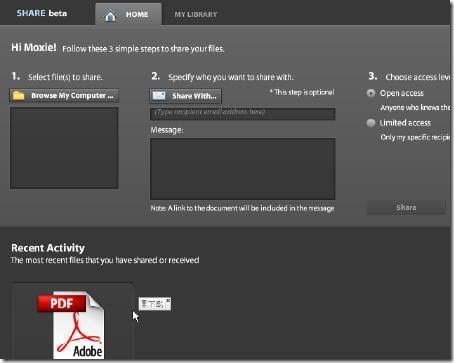 Posted under
Adobe Flex
|
Comment
Like this article? Subscribe to our RSS Feed