Posted by Charles | November 26, 2007 .
I am talking about clouds, literately. It's funny that I do thought about clouds when having a long drive during Thanksgiving holiday. Looking at the clouds overcasting in the sky I was amazed thinking such simple thing in nature could have unlimited formations. No wonder people in the old time trying to predict future by interpreting clouds. Then, back home I bumped into this site called Million Clouds, a Flash site that sells only cloud stock pictures for 99c a piece.
You know I love simplicity and this one can't be any simpler, with sound business model too. The most useable part is the filter. We all know searching pictures is hard. However only because the million Clouds site is focusing on clouds, it seems easier. The filer allows you use cloud cover, size, weather, light direction, color and other elements such as horizon, jet trails, sun visibility, etc to find your perfect clouds. The one will produce interesting result is God Fingers. RIA is done right here.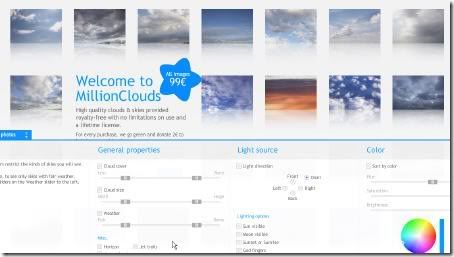 Posted under
Adobe Flash
|
Comment
Like this article? Subscribe to our RSS Feed