Posted by Charles | November 27, 2007 .
Eat your own dog food, that's what people like to say. But I don't think most people do, or should do, only because dog food is for dog. For example, the Flex blog from Adam Dyson is actually a Flex application. It's neat, elegant and serves the purpose as a blog. However, there are more to it for a blog.
Things you need consider are how you would generate RSS feed, comments, etc. Even though Google or other search engines supposedly can index Flash, I don't think Flash is a good way for SEO (search engine optimization). Then, how people find your posts if it can't be searched effectively. Not mention the other factors such as putting AdSense on the site.
As a student, Adam Dyson did a super job demonstrating RIA technology by putting up a Flex blog in Flex. It just makes me think that developing a technology and applying a technology are very different things.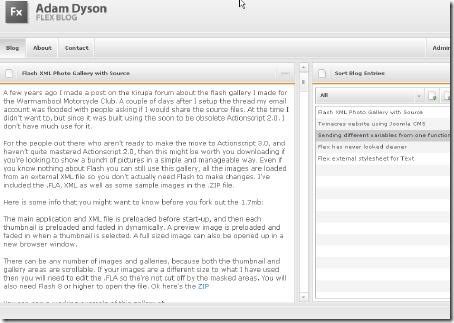 Posted under
Adobe Flex
|
9 Comments
Like this article? Subscribe to our RSS Feed