Posted by Charles | November 29, 2007 .
It's holiday season and it's shopping season too. Have you tried Amazon Customer Vote and got anything? If not, try this one, Wish List from American Express, a Flash application for the 2007 holiday. The change is better too.
The way it works is that for 17 days, there will be 56 big discount items and 4 giveaways. All these will be released daily at certain time during the day. Once you catch the released item, you need go claim it. It'll involve giving your American Express card number, etc. If it's a good deal, why not.
The flash site is clean and nice with good Amex color matching tune. One thing I don't like is the big How My Wishlist Works Flash. When need info, just give info quickly. Why bother with a lengthy Flash (I know it makes the site looks better, but sometimes at someplace you just don't care.)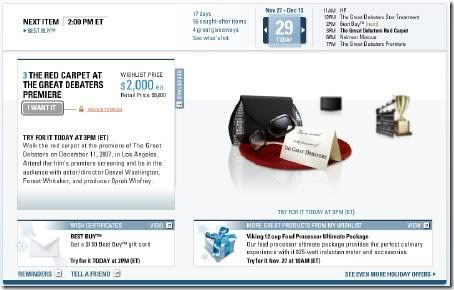 Posted under
Adobe Flash
|
1 Comment
Like this article? Subscribe to our RSS Feed