Posted by Charles | December 1, 2007 .
When you just thought you had seen enough of social networks, or when there were seemingly no room for another one, bang! another one pops up. This one is full Flex one and it's very good. Meet Lifenaut.
Lifenaut.com allows users to create an online time capsule of their life. The system supports uploads and conversion of all major media and document files, as well as a custom 3d engine and yahoo map integration. It has major the social network essentials such as profile, friends and lifestream (timeline). Haven't found groups or networks.
Three features are very unique here. The timeline, which visually display your lifestream, a benefit of Flash application. Location, integrated Yahoo map shows location related information. 3D relation connection, visualize the connection established. They certainly know to take advantage the platform selected.
The UI is dashboard liked environment. It seems they really pushed limit in term of design because you wouldn't think it's a Flex application, rather a Flash one (I still think there are some pure Flash works there.)
For a social network, it will be different experience. My Flash 9 on bother IE and Firefox keep throwing exceptions when using this site so that I didn't get to explore too much of it. But it's very promising.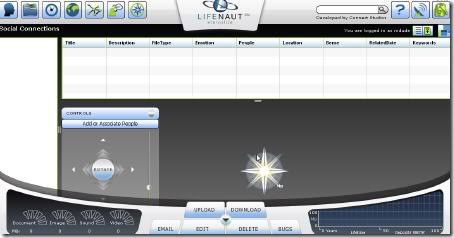 Posted under
Adobe Flex
|
Comment
Like this article? Subscribe to our RSS Feed