Posted by Charles | December 14, 2007 .
Adobe certainly knows how to "disturb" the holiday spirit, by introducing a big load of goodies. The Flex community has been catching a wild fire since last night. All the cool kids abandoned their online shopping carts full of gadgets and turned to cheer, crank and toy with Adobe. Then, Yahoo joined the crowd by skinning and dressing up the Flex for holiday, that will delay another day of big load of gift shipping.
What can I say, 2008 will be the year of RIA.
For now, let me calm you down with a good and "old" friend, the Flex Reflection manager. Before Flash application, us boring developers never thought of decorating our programs with something called "reflection". We are pretty much got all the prides from drop shadows on dialog boxes. With Flex (Flash), it's just a nature and such a easy thing to do. And, it always got "wow" from management who thought you are a genius, which make you want to giggle like a little girl.
If you haven't used or heard of this Flex Reflection Manager, go try it. Remember to right-click to get the source code. This reflection manager app shows you how you can adjust the look and feel of the reflection effect. You can change the parameters of Alpha, Distance of the reflection and how blur of it will be. Very flexible and most important, simple to use.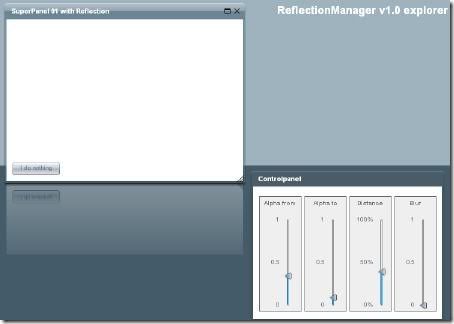 Posted under
Adobe Flex
|
1 Comment
Like this article? Subscribe to our RSS Feed