Posted by Charles | December 17, 2007 .
There are attempts to develop Flex web applications. Most of them I've seen are Flex applications on web. While Flash is omnipresent, people still feel odd and disoriented when getting on a Flex application while surfing the web. The usability of a windows style Flex application is indeed different from HTML web site. Going either directions, turn-web-to-desktop or leave-as-it-is, using Flex is OK with me. I just want to see people do it right. I think the Ultrashock guys did it right.
Ultrashock is a commerce site that basically selling multimedia assets. However, the site is developed (or redeveloped) in Flex and it closely reassembles a general HTML web site use experience. That approach actually makes the Flex (or Flash) features stand out. People will naturally and mentally compare browsing experience when jumping from site to site. At Ultrashock, they will compare it with the rest of the HTML web site. Therefor, it certainly gives Ultrashock a big advantage from usability stand point. That's what happens when a Flex application becomes a web site.
I like its business model too. You sign up and buy credits, one dollar one credit. Then you browse through the contents to find the assets you like, while UI is very attractive so that you search and view will be very enjoyable (so that you will be willing to spend more time searching, clever.) When you find the one you love, download it by paying with your credits, there are lots of one credit good looking assets. That's it.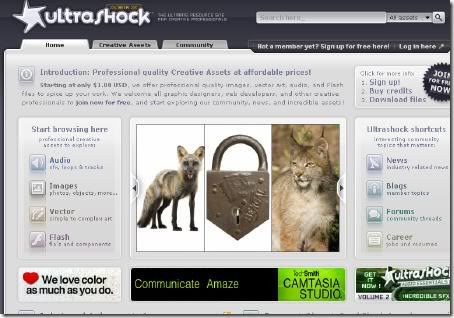 Posted under
Adobe Flex
|
6 Comments
Like this article? Subscribe to our RSS Feed