Posted by Charles | December 21, 2007 .
Believe it or not, it is a Flash Christmas, considering all the news from Adobe on everything Flash, ActionScript and tamarin VM, I mean, great news. It's getting better actually. Today, Yahoo's Flash team delivered another gift to all the flashing cool kids, the Badge Kit.
Yahoo may backed off the Flex 1.5 base map and turned to AJAX, but its Flash lab is very busy in churning out goodies, in the mean while. Any way, the new toy, Badge Kit, is an XML-based framework for rapid development of small interactive Flash applications. You can learn how to use the Badge Kit very quickly, and most of the usage scenarios require no knowledge of Flash.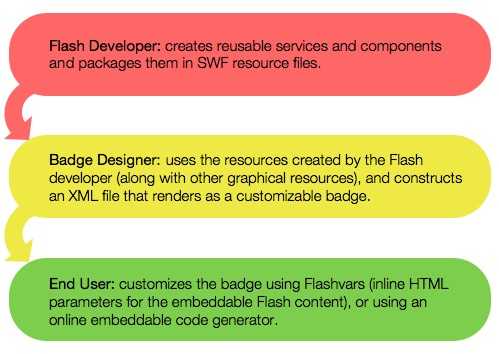 For the initial release of the Badge Kit, there are number of components and services that can be used out-of-the-box, without additional Flash development. These components include the set supplied with Flash CS3 IDE, the ASTRA components released by the Yahoo! Flash Platform team, as well as a number of Yahoo! data services.
I believe this open widget (or badge) platform approach is very clever and has huge upside potential. The walled major widget platforms, Mac OS, Yahoo Widget, Google gadget andMicrosoft visita (they all claim be open), are giving developers headaches when they want to reach broader user base. As Mike Hendrickson complained on O'Reilly Radar today, all things locked you in, out down won't work eventually. Openness prevails!
Posted under
Adobe Flash
|
Comment
Like this article? Subscribe to our RSS Feed