Posted by Charles | August 24, 2006 .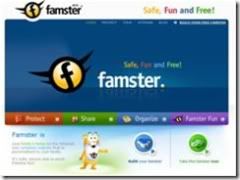 Finally, we have a Flash based social network startup, Famster.
The company was originated from a consulting/service business building web application. Then they developed this startup to allow users build family friendly community. As they claimed, "We have built a secure, fun-filled, family-oriented environment – one that we feel safe to send our own children to."
You can use it to build a community for other purpose as well.
The whole site is Flash based. I can't figure out if it's developed using Flex or not. (any one?) It does have sign of Flex though. That's lots of works if it is all developed out of Flash.
The signup is very simple and easy. You gave a family name and if there are duplication, they just append a number to it. Your family name will become part of you site URL.
I's such a refreshing feeling comparing the messy myspace junks.
Before login, going to your side, you will find all this items available to you through a slide out menu: Photo Albums, File Cabinet, Recipes, Scrapbook, News Feeds, Links, Guest Book, etc.
Seems to me those are all open to public. I assume that you can specify what you want to be available to public
Once you login. You got regular manu, plus Member and Admin manu.
The Member manu is bit confusion. If you add certain component such as a List, it will go to the Member menu.
Anyway, it have all the Flash's flashing effects and the community based elements. They will have IM and photo sharing function coming soon.
Viewing photo is a better experience than other community site, thanks to Flash.
File management is a blast, thanks to new Flash 9 file upload function. Doing multiple file upload is just way better that non-flash site.
I do have several complains though. They have a very useful module called Family tree. Basically you can build a visual family tree with this components. This should be the showcase function that other technology based site can't have it. But, to work around the Family Tree module is not that intuitive. I have to click around to the tree show up and get to familiar with how it works. Flash can do much much better that this. Good idea though.
Another one, you can open the file cabinet from the menu and view/download the file. But you have to go to Admin manu to upload the file. Actually it works the same way on other items such as photo and receipts. I understand why they are doing that way but it's just not a convenient approach.
In general, I'm so glad to see this real full functional large scale community site built from Flash technology. I really don't want to call it another web 2.0 startup. Let's just drop the 2.0 thing for now, enjoy the site and wish them luck.
Posted under
Adobe Flash
,
Startups
|
1 Comment
Like this article? Subscribe to our RSS Feed