Posted by Charles | January 15, 2008 .
Among the three major contenders in the RIA race, Adobe Flash/Flex/AIR, Microsoft Silverlight and Sun JavaFX, the former two really are traveling on the same route, XML GUI markup. However, Sun JavaFX looks up at Flash as a role model and goes to a different path to make its JavaFX scripting language similar to the good and old Flash in the pre-actionscript days. On the surface, it makes great sense. During the past 10 years, Java really turned its developers to be server-side developers, at least majority of them. Sun has to make JavaFX appealing to designers, only because they can't count on the Java developers (aka server side developers) to retake what Java Applet lost. That's why JavaFX Script is marketed as designer friendly.
Anyway, however Sun is entering the RIA space doesn't discount others trying the well established route to provide the de facto UI design approach, XML markup. A company called Soyatec does just that.
If you know Flex or Microsoft XAML then Soyatec's eFace would be a very familiar solution. As matter of fact, eFace uses XAML to do the markup and translates the UI markup to Java. The core of eFace, code-named as UPF (Universal Presentation Framework), is compatible with Microsoft WPF (Windows Presentation Foundation). And, it's a 100% Java solution!
I would think eFace is an extremely interesting technology. If it gets its way, both .Net and Java developers could fall in love with it. All those Java turned Flex developers would feel comfortable to give it try too. Maybe that's what Sun should do with Java at the first place when conceiving JavaFX (I'm sure they won't regardless, though.)
I can't tell the future of eFace. Maybe it should get acquired by somebody to really gain attention from RIA community. Regardless it certainly a good alternative.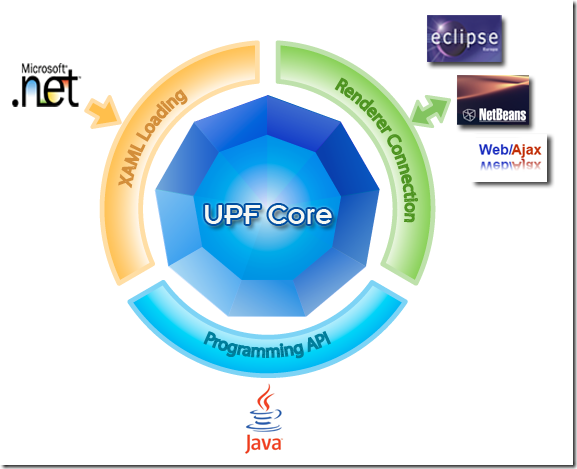 Posted under
RIA Resource
,
Sun JavaFX
|
Comment
Like this article? Subscribe to our RSS Feed