Posted by Charles | January 18, 2008 .
RIA tools such as Flash is the best fit for developing platforms or applications where creative media can be generated. Everybody can find some dosage of creativity inside, at least a varies degrees or imagination. What usually stop us is the way to get it out, the expression aspect of them. Usually that's how differences have been made between average Jeos and attests. They have the skills. Good news is that there are more and more online (and free too) tools coming out to help reduce the differences, if not remove them. Here is an example, the newly opened startup, Toonlet.com, where hopefully you can find your internal cartoon God.
What Toonlet does is quit simple, helping you create cartoon strips, the ones you've read everyday from newspaper or online. If you think you can come up with your very own Dilbert like former techy Scott Adams did, then here might be the place to start.
Of cause the authoring tool is in Flash (what else you would think it could be anyway). You create your characters first, where there are many ways to custom the characters you are creating. You make a character by moving, scaling or rotating the parts until they're just the way you like. There are a few "packs", templates you can pick, where have all sorts of things you can put on your dude. You can't create you own body part yet, but the point is that you don't have to, isn't it? Once your dude is done. You can dive to create a strip. That's where you put a store together to bring your guy live. Then you share it. Or, go find agent if you are very proud of your creation.
Toonlet is a simple tool but I can see there are consider amount of works have been done to bring it online. So run there give it try.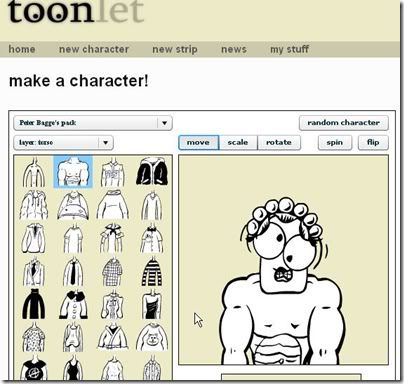 Posted under
Adobe Flash
,
Startups
|
Comment
Like this article? Subscribe to our RSS Feed