Posted by Charles | January 22, 2008 .
There was this small hype about InsideRIA when the rumor was out that O'Reilly and Adobe were gearing up a RIA portal. Now, during this long weekend, it's out and its name is all over the RIA space. It's a blog, to start with and there isn't a big bang. I know and we all think the more RIAs, the more mere. But do we really need this InsideRIA?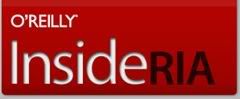 First of all, what is InsideRIA. As InsideRIA states, "InsideRIA.com is an online community developed by O'Reilly and sponsored by Adobe Systems Incorporated. Our goal is to create an invaluable resource for information on the ever-changing state of design and development of rich Internet applications (RIAs)." So, obviously it's Adobe RIA, regardless if Teknision guys mentioned they will blog at InsideRIA on "Flash Platform, AJAX, Silverlight and WPF, and all other important technologies involved in this movement, but hopefully discussion will emerge that rises above implementation, and focuses on best practices, standards, and patterns."
Here are some observations:
O'Reilly's involvement into RIA at this level certainly rectifies the level of maturity and the mainstream status of RIA technologies. This is a good thing. O'Reilly is in the media and press business that focusing on technologies. Its endorsement is very valuable to all the RIA advocates and evangelists. Of cause, talking about double edged sword, it's good to O'Reilly too to capitalize in trending gears.
Adobe owns upper hands in the RIA space. Aligning with technology media king is certainly a healthy way of building the ever stronger ecosystem around its RIA products. As an advocate of Flex technology, I'll throw in my cheers too to the crowd.
However, very vaguely, I see isolation of RIA technologies at the horizon created by this large media/press + vendor marriage. A much bigger walled garden doesn't reduce the wall effect, even though visually it does.
RIA is UI focused technology after all, however we want to spin it. Once reach to the server, there are existing world, .Net or JEE or opensource, to deal with. While cheering for the maturity of RIA technologies and its wider acceptance, we need think more about the integration and ties of RIA to the "traditional" technologies. Openness is not just about source, it's also about how well it plays with others. So, the question reminds, is InsideRIA actually isolating RIA technologies or de we need the InsideRIA approach?
BTW, I can't make sense of the current InsideRIA as a community. It's a blog, regardless how I look at it. I like some of its contents though.
Posted under
RIA Resource
,
Thinking Loud
|
1 Comment
Like this article? Subscribe to our RSS Feed